Drum Lessons in Bismarck & Mandan
Learn to Play Drums With
Lessons from Andersong Music
Call 701-325-0220 or use our contact form to schedule a FREE 30 minute lesson evaluation.
Personal Mission Statement
To be a dedicated teacher and mentor. And to inspire my students to become excellent musical drummers who express their excitement, knowledge, and love of music with the world.
Get The Drum Rolling
Are you interested in drum lessons but have never held a pair of sticks?  Or are you ready to press the restart button on your old passion for drumming?  Maybe you're looking for inspiration to learn new grooves and styles and progress to the next skill level?
My mission is to help you get there.
I am now accepting new students. I can travel to your home or you can study with me at my studio in Mandan.
Students can expect to study the following skills and techniques in order to create a solid foundation for learning, review or advancement:
Grip and Strokes
Sight Reading
Rudiments
Timing
Coordination
Listening Skills
I enjoy helping students define and reach their musical goals and therefore lesson plans are custom designed for each student.
Parents, join the many other families who have entrusted me with helping create advanced music skills for your child through concentrated, individualized drum lessons. If you would like to experience the joy of drumming by learning about rhythm and drums…
The ideal music teacher combines a personal drive for their own musical growth with an obsession for the development of their student's.  I like the fact that Jim tries to find out what direction Billy wants to go, and helps him to get there.  It's obvious that he cares about his students.  – Dan Parks, parent
Teaching Experience and Qualifications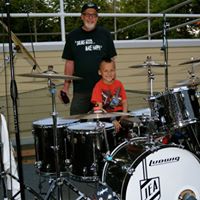 I have been teaching individualized drum lessons from my studio for over 20 years. I have taught over 4,500 lessons to students from 5 years old to 85 years young.
As an enthusiastic teacher I create a fun learning environment. Helping students define and reach their musical goals is one of my primary roles. I improve my passion for music instruction by attending music clinics and conventions on a regular basis. These events allow me to learn the latest teaching techniques and apply them in my weekly lesson plans. My methods create excited drummers/musicians who excel on drum set, rudimental (marching) style drumming, orchestral and school band music.
I consider myself a 'student of the drums' and believe that there is always something new to learn and therefore something new to teach.
Every student is different and requires individual attention, therefore lessons are uniquely tailored to each students' individual needs and desired musical outcomes
I have gone through the "live scan" fingerprint and background check process and have taught in many local schools as an instructor and coach.